Concussion Clinic
About the program
Newport Orthopedic Institute and ImPACT™ are offering concussion management for children and teenagers involved in sports. Read below to learn more about testing and scheduling an appointment. The clinic offers baseline and post-injury neurocognitive tests. Why is this important? Because athletes often hide concussion symptoms and don't know what to look for.
According to the U.S. Center of Disease Control, of almost 800 high school athletes:
69% reported playing with concussion symptoms
40% of the athletes said that their coach was not aware they they had a possible concussion
Immediate or On-Field Assessment of Red Flags
It is recommended that athletes suspected of having a concussion be observed immediately on the field after the first aid/emergency care priorities are completed.
If any "Red Flags" are noted, the athlete should be immediately and safely removed from participating on the field and evaluated by a physician or licensed healthcare professional.
If any "Red Flags" are noted, the athlete should be immediately and safely removed from participating on the field and evaluated by a physician or licensed healthcare professional.
Red Flags:
Neck pain or tenderness
Double vision
Weakness or tingling/burning in arms or legs
Severe or increasing headache
Seizure or convulsion
Loss of consciousness
Deteriorating conscious state
Vomiting
Increasingly restless, agitated or combative
Signs and symptoms:
The following is a list of warning signs that indicate a possible concussion. Contact us or your family doctor right away if you believe you have a concussion.
Cognitive Symptoms:
Difficulty thinking clearly
Difficulty concentrating
Difficulty remembering
Feeling down, sluggish, hazy or groggy
Feeling "in a fog"
Confusion
Physical Symptoms
Headache or pressure in head
Nausea
Vomiting
Balance problems
Dizziness
Fatigue
Double or blurry vision
Sensitivity to light and noise
Numbness or tingling
Weakness in extremities
Neck pain
Emotional Symptoms
Irritability
Sadness
More emotional than usual
Nervous or anxious
Trouble falling asleep
Sleeping more than usual
Drowsiness
"Don't feel right"
Concussion Checklist
Once you have been diagnosed with a concussion, please follow our Concussion Checklist to return to your normal daily activities safely. You will need to be seen by your doctor 3-5 times, depending on your recovery.
Clinic Availability
Concussion testing is provided on-site at our Newport Beach location. To schedule an appointment call (949) 722-7038 ext. 5051. We do not offer refunds for no-shows.
Concussion Clinic address:
22 Corporate Plaza Drive, Newport Beach, CA 92660
Get Directions >
What is the cost?
It is $30 to receive a baseline assessment. If you have an athletic team or at least 10 or more athletes that you'd like to have attend the clinic, the cost is $25 per person.*
Contact: (949) 722-7038
* To reschedule an appointment please contact us
24 hours in advance.
What you need to know
We recommend that all athletes obtain a baseline test prior to participating in sports when they do not have symptoms of a concussion. Establishing a baseline is essential to measure the extent and effects of a concussion. It will help clinical professionals determine when it is safe for the individual active in sports to return to play after the incident.
ImPACT™ (Immediate Post-Concussion Assessment and Cognitive Testing) is the most-widely used and most scientifically validated computerized concussion evaluation system. ImPACT™ provides trained clinicians with neurocognitive assessment tools and services that have been medically accepted as state-of-the-art best practice, as part of determining safe return to plan decisions.
The neurological assessments measures the following:
Attention span
Working memory
Sustained and selective attention time
Response reaction time
Non-verbal problem solving
Meet our Physicians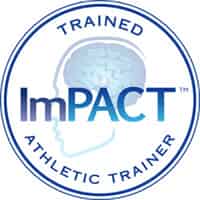 Emilia Ravski, DO
Dr. Emilia Ravski, is a board-certified Sports Medicine and Physical Medicine and Rehabilitation (PM&R) physician. She specializes in non-surgical treatment of sports and musculoskeletal injuries. Born in the Ukraine, Dr. Ravski moved to Southern California at age 10 with her family. She obtained her bachelor's degree in Biological Sciences at the University of California, Irvine.
James H. Ting, MD, FAAFP, CAQSM
Dr. James Ting is a board-certified Primary Care Sports Medicine physician who specializes in the non-operative treatment of sports and orthopedic injuries and conditions. An Illinois native, Dr. Ting spent his formative years growing up in Southern California, where he graduated from UCLA with a degree in Microbiology and Molecular Genetics.
Brian J. Choi, MD
Dr. Brian Jin Choi is a board-certified Family Medicine and Sports Medicine doctor. He completed his sports medicine fellowship from the University of California, San Diego. Dr. Choi is currently a team physician for the USA Women's Water Polo team, and as part of his fellowship, he helped cover games and practices for San Diego State University football and basketball and for San Diego Legion, a Major League Rugby team.
Sports Medicine Care "Dr. Dunphy is warm and friendly. He is confident and knowlegeable." Provider: Taylor R Dunphy MD

Sports Medicine Care "Dr. Dunphy was so caring and always made sure that through this long recovery process that I was doing okay. He was always available to answer any questions or concerns I had throughout the whole process" Provider: Taylor R Dunphy MD

Interventional Procedure "Dr. Ting is very knowledgeable and open to provide treatment options." Provider: James H Ting MD