Thinking About an E-Bike? Don't Forget the Safety Instructions
Posted On:
Written By:

Newport Orthopedic Institute
As the COVID-19 pandemic continues to drive people into solo & socially distanced activities, the popularity of electrical bikes, also known as e-bikes, continues to rise. Along with this increase of use, there has been a slight increase of injury, including Simon Cowell, current judge on America's Got Talent. Dr. Christina Seifert was recently interviewed by Health.com on the most common orthopedic injuries she has seen as a result of using e-bikes.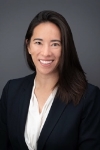 About Christina Seifert, M.D.
Dr. Christina Seifert
 is an orthopedic trauma surgeon, specializing in complex fractures. She typically sees patients who have undergone an acute orthopedic injury involving fractures, sprains, soft tissue damage and infections.