Shaunak Desai,
MD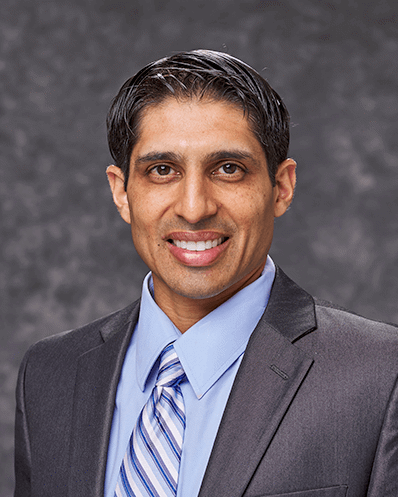 Primary Specialty:

Orthopedic Surgery (Board Certified)

Areas of Interest: Elbow, Hand & Wrist, Shoulder,
Surgery of the Hand & Wrist, Elbow & Shoulder
Procedures & Conditions Treated:
Procedures:
AC Joint Surgery
Anti-inflammatory medicine
Bicep Tendon Repair
Bursitis / Impingement Surgery
Carpal Tunnel Release
Clavicle and Postural Supports
Clavicle Fracture Repair
Closed Reduction
Closed Reduction Finger
Corticosteroids / Cortisone Shots
Cubital Tunnel Surgery
Custom EXOS© Brace
Custom Splinting
Distal Biceps Tendon Surgery
Distal Radius Fracture ORIF
Dupuytren's Contracture Fasciectomy
Durable Medical Equipment (DME)
Elbow Arthritis Surgery
Elbow Arthritis Treatment
Elbow Arthroplasty
Elbow Fracture Surgery
Elbow Fusion Surgery
Elbow Reconstruction Surgery
Elbow Tendonitis Surgery
Fasciotomy
Fiberglass Casting
Finger Abscess Drainage
Ganglion Cyst Surgery
Hand Fracture Surgery
Hand Reconstruction Surgery
Humerus Fracture Repair
Joint Injections
Loose Body Removal
Minimally Invasive Shoulder Surgery
Nerve Decompression Surgery
Nerve Decompression Surgery
Olecranon Bursa Aspiration
Open Shoulder Surgery
Pain Medication
Pain Medication
Physical Therapy
PRP Injections
Reverse Total Shoulder Replacement
Rotator Cuff Repair
Shoulder Arthroscopy
Shoulder Debridement
Shoulder Decompression
Shoulder Immobilizers
Shoulder Replacement Surgery
Shoulder Revision Surgery
Shoulder Slings
Shoulder Stabilizers
Sling
Splint
Superior Capsular Reconstruction Surgery
Taping
Tendon Repair Surgery
Tendon Repair Surgery
Tennis Elbow Surgery
Tommy John Surgery
Total Shoulder Replacement Surgery
Trigger Finger Release
Ulnar Collateral Ligament Repair
Ulnar Decompression Surgery
Ultrasound Guided Injections
Wrist & Finger Tendon Transplant
Wrist Fracture Surgery
Wrist Fusion Surgery
Wrist Reconstruction Surgery
Wrist Tendonitis Surgery
X-Ray & MRI
Conditions:
Arthritis
Bicep Tendon Rupture
Bicep Tendonitis
Biceps Tendonitis
Broken Arm
Broken Collarbone / Collarbone Injuries
Broken Finger
Broken Hand
Carpal Tunnel
Clavicle Fracture
Colles Fracture
Cubital Tunnel Syndrome
De Quervain's Tenosynovitis
Dislocated Elbow
Dislocated Finger
Dislocated Shoulder / Subluxation
Dislocated Wrist
Distal Biceps /Triceps Ruptures
Distal Biceps Tendon Rupture
Distal Radius Fracture
Dupuytren's Contractures
Elbow Arthritis
Elbow Bursitis
Elbow Contracture
Elbow Fracture
Elbow Instability
Elbow Osteoarthritis
Elbow Sports Injuries
Elbow Tendonitis
Erb's Palsy
Fractured Elbow
Fractured Wrist
Frozen Shoulder / Adhesive Capsulitis
Ganglion Cyst
Golfer's Elbow / Medial Epicondylitis
Humerus Fracture
Hyperextension of the Elbow
Jammed Finger
Lateral Epicondylitis
Little Leaguer's Elbow
Mallet Finger
Metacarpal Fracture
Nerve Injuries
Olecranon Bursitis
Olecranon Fractures
Osteoarthritis
Osteochondral Defect (OCD)
Osteochondral Defect (OCD) of Capitellum
Osteochondritis Dissecans
Osteoporosis
Peripheral Nerve Injuries
Pinched Nerve
Radial Collateral Ligament Sprain
Radial Tunnel Syndrome
Rheumatoid Arthritis
Rotator Cuff Injury / Rotator Cuff Tear
Separated Shoulder
Shoulder Arthritis
Shoulder Bursitis
Shoulder Fractures
Shoulder Impingement
Shoulder Osteoarthritis
Shoulder Sports Injuries
Shoulder Tendonitis
Sprained Elbow
Sprained Finger
Sprained Wrist
Still Elbow
Strained Elbow
Suprascapular Neuropathy / Entrapment
Tendinosis
Tennis Elbow / Lateral Epicondyltitis
Throwing Injuries
Triceps Tendonitis
Trigger Finger
Ulnar Collateral Ligaments Injuries
Ulnar Nerve Entrapment
Ulnar Neuropathy
Wrist Tendonitis
Biography
A native of California, Dr. Shaunak (Shaun) Desai grew up in San Jose, California. He began his education at the University of California, Riverside earning his B.S. in Biology with a minor in Neuroscience. He graduated Magna cum Laude with honors and went on to attend Northwestern University School of Medicine in Chicago, Illinois. After medical school, Dr. Desai completed his Orthopedic Surgery Residency at the Henry Ford Health System, a very busy Level 1 Trauma Center in Detroit, Michigan. During his residency, he served as the Administrative Chief Resident and was nominated for Outstanding Resident of the Year.
Dr. Desai returned to California to complete his Hand and Upper Limb Fellowship at Stanford University where he studied under world-renowned plastic and orthopedic trained hand surgeons. During residency, Dr. Desai was a part of Stanford's investigational center for the treatment of Dupuytren's disease. He spent significant time studying and treating the disease along with other peripheral nerve injuries.
In his spare time, Dr. Desai enjoys being active, going to the gym, running, softball, and soccer. He is a former F.I.F.A. certified soccer referee. He currently resides in Newport Beach with his wife and two children.
Education
Medical School

Northwestern University Feinberg School of Medicine (Medical Doctor)
Residency

Henry Ford Health System (Orthopedic Surgery, Chief Resident)
Fellowship

Stanford University (Robert E. Chase Hand and Upper Extremity Fellowship)
Training

Emergency Medical Technician License - Riverside Community College
Board Certification
American Board of Orthopaedic Surgery


2012

Surgery of the Hand (formerly CAQ Hand)
Associations
American Medical Association
Detroit Academy of Orthopaedic Surgeons
Michigan Orthopaedic Society
Awards
Henry Ford Outstanding Resident of the Year – Nominee (2009)

Detroit Academy of Orthopaedic Surgeons Best Resident Research Presentation – 2nd Place (2009)

Best Research Presentation – 2008 Harold Frost Lectureship – Henry Ford Hospital (2008)

1st Place – UF Gainesville MSK Pathology "Unknowns" Competition (2008)
Affiliated Locations
Hoag Hospital - Irvine

Hoag Memorial Hospital Presbyterian - Newport Beach

Hoag Orthopedic Institute

Hoag Orthopedic Institute Surgery Center - Newport Beach

Newport Orthopedic Institute - Huntington Beach Orthopedics

Newport Orthopedic Institute - Newport Beach Orthopedics