Mark Elzik,
MD,SOCO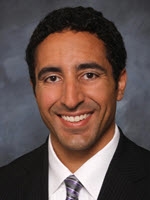 Primary Specialty:

Orthopedic Surgery (Board Certified)

Areas of Interest: Elbow, Hand & Wrist
Procedures & Conditions Treated:
Dr. Elzik specializes in hand, wrist, elbow, and microvascular surgery.
Biography
With his longstanding commitment to academic excellence, Mark E. Elzik, MD, brings that same focus to South Orange County Orthopaedics, Inc, in Mission Viejo, California. A skilled, board-certified orthopedic surgeon, Dr. Elzik specializes in surgery of the elbow, wrist, hand and microvascular system.
Dr. Elzik spent grew up in Orange County before moving to North Carolina to attend Duke University. He went to medical school at the University of North Carolina Chapel Hill, where he was inducted into Alpha Omega Alpha, a medical honor society limited to the top 1% of medical students.
Dr. Elzik returned to California to complete his residency in orthopedic surgery through the University of California, Los Angeles (UCLA). He refined his surgical skills during a fellowship at the Philadelphia Hand Center, learning from world renowned hand surgeon Dr. A. Lee Osterman. Dr. Elzik was elected to the Orange County Medical Association (OCMA) 2018 Physician of Excellence List.
As an accomplished surgeon, Dr. Elzik now shares his knowledge with others by lecturing at national professional events and publishing medical articles. He has a broad base of skills, and assists patients with surgical solutions to a wide range of orthopedic issues.
Dr. Elzik has published multiple medical articles and given numerous lectures at national meetings. He serves patients throughout south Orange County and operates at Mission Hospital in Mission Viejo and Laguna Beach. Some of his surgical competencies include:
Wrist Arthroscopy
Finger, Hand, Wrist, Forearm, Elbow Trauma
Pediatric Injuries
Finger/Hand Replantation
Microvascular Reconstruction
Neuropathy
Arthritis
When not at work, Dr. Elzik is a fan of college basketball, water sports and quality time at home barbecuing with friends and family.
Questions About Your Care
If you have a clinical question about your care, medication, or follow-up needs, please contact the South Orange County Orthopaedics, Inc. directly.
Phone: (949) 364-2154
Fax: (949) 364-2110
Reception@SOCortho.com
* Please note that due to HIPAA Regulations, we cannot respond to you via email. Once your email is received, you will receive a call from one of our staff members at South Orange County Orthopaedics, Inc.
Education
Medical School

University of North Carolina School of Medicine (Medical Doctor)
Internship

University of California Los Angeles School of Medicine (General Surgery)
Residency

University of California Los Angeles School of Medicine (Orthopaedic Surgery)
Fellowship

Thomas Jefferson University Hospital & Philadelphia Hand Center (Hand Surgery)
Board Certification
American Board of Orthopedic Surgery (Orthopaedic Surgery)
Affiliated Locations
Children's Hospital Orange County - Mission Viejo