Dr. Lee Performs Rare Cervical Spine Revision Surgery
Ruth Boeczko had fallen down some stairs at her 3-story condo in Huntington Beach when she was vacuuming. All she recalls after waking up was calling out to her daughter for help. It turned out she had broken her neck.
Dr. Richard Lee took over her care after a previous operation to fix her neck fracture with a singular vertebral screw had failed. Ruth's neck injury had healed in a tilted/slanted position because her C1 ring had flipped horizontally and was resting on her C2 vertebrae. This was preventing her from turning her head from side-to-side without being in excruciating pain. She had been living w/ excruciating daily pain and with every move she risk of becoming paralyzed.
Dr. Lee, a Harvard Medical School-trained spine surgeon decided the best course of action for Ruth's case was to attempt a procedure he had learned in Beijing, China. In order to complete this neck revision surgery, Dr. Lee had to recreate the original injury, basically, he had to re-break the neck in order to loosen the fracture.
After Dr. Lee removed the hardware from the first procedure, then, after severing her spine on both sides, Dr. Lee was able to realign Ruth's head and neck back to the original angle, accessing her spine through an incision in the mouth.
The operation was a success and Ruth is recovering well in a neck brace with minimal neck pain and has begun physical therapy.
See the interview with Dr. Richard Lee and Ruth Boeczko as it was featured on NBC News.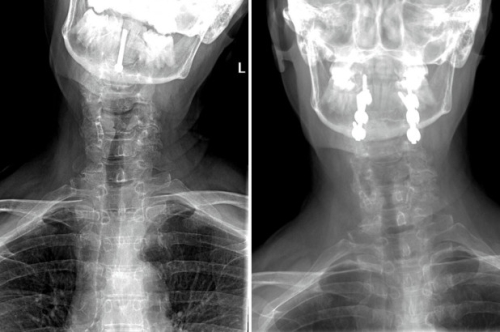 Photo Caption: Before and After X-rays of Ruth Bobeczko neck. The image on the left shows her crooked posture on the left. The image to the right is after Dr. Lee performed neck revision surgery.
(NBC News Story Published Tuesday, Sep 10, 2019 | Credit: Gordon Tokumatsu, Mike Tauber, Kevin Dahlgren)