Richard Lee,
MD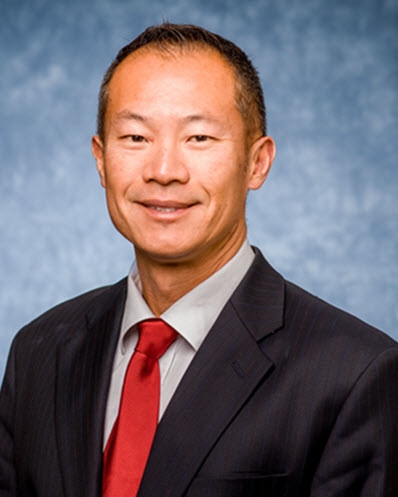 Primary Specialty:

Orthopedic Surgery (Board Certified)

Surgery of the Spine
Procedures & Conditions Treated:
Procedures:
Anti-inflammatory medicine
Artificial Disc Replacement
Anterior Cervical Discectomy and Fusion (ACDF) and Instrumentation
Anterior Lumbar Interbody Fusion (ALIF)
Bone Grafting
Complex Surgical Reconstruction
Decompression
Discectomy
Disc Replacement Surgery
Kyphoplasty
Laminectomy
Laminotomy
Lateral Lumbar Spinal Fusion
Lumbar Discography / Lumbar Discogram
Physical Therapy
Minimally Invasive Spine Surgery
Pain Medication
Posterior Cervical and Lumbar Microdiscectomy / Microdecompression
Posterior Cervical Fusion with Instrumentation
Spinal Fusion
Spinal Fusion Surgery (Bone Graft Substitute, Biologics, Laminectomy)
Spine Stabilization
Spinal Instrumentation
Spine Arthroplasty
X-Ray & MRI
Conditions:
Arthritis
Acute Spinal Fracture
Bulging Disc
Cervical Fracture
Cervical Stenosis
Chronic Back & Cervical Pain
Compression Fracture from Osteoporosis
Degenerative Back and Neck Disorders
Degenerative Disc Disease
Facet Joint Syndrome
Failed Laminectomy Syndrome
Failed Back Surgery Syndrome (FBSS)
Herniated Disc
Kyphosis
Myelopathy / Spinal Cord Injury
Muscle Strain
Neck Sprain
Neuropathic Pain
Osteoarthritis
Osteomyelitis / Bone Infection
Osteoporosis
Radiculopathy / Pinched Nerve
Ruptured Disc
Sacroiliac (SI) Joint Pain
Sciatica
Scoliosis
Slipped Disc
Spinal Deformities
Spinal Fractures
Spinal Infections
Spinal Stenosis
Spinal Tumors
Spondylolysis
Spondylolisthesis
Traumatic Spinal Injury
Thoracic Conditions
Whiplash
Biography
A southern California native, Richard Lee, M.D., is board certified in orthopedic surgery specializing in minimally invasive surgery of the spine. He treats the entire spectrum of spinal conditions including cervical, thoracic, and lumbar spine pathologies. Employing the most current and advanced operative techniques, Dr. Lee performs surgical procedures of the spine with the goal of returning patients to function as quickly as possible.
Dr. Lee's interest in spinal surgery is a combination of several academic interests during his schooling. In college, he studied neurobiology and was intrigued by the complexity of the human nervous system. His laboratory research included work on the effects of microgravity on gene expression in bone and muscle cells in outer space. These early experiences as an undergraduate student and NASA researcher primed his interest in orthopedic and spinal surgery as a medical student.
"What I enjoy most about spinal surgery is the opportunity to combine science and art to help patients rehab from physically debilitating conditions."
Dr. Lee attended the University of California at Berkeley for his undergraduate degree in molecular biology. He went on to attend medical school at the Albert Einstein College of Medicine in New York. He completed his surgical internship and orthopedic surgery residency at the Yale School of Medicine, followed by a combined orthopedic and neurosurgical spinal surgery fellowship at Harvard Medical School.
Dr. Lee resides in Newport Beach and enjoys running and cycling in his spare time.
Education
Medical School

Albert Einstein College of Medicine (Medical Doctor)
Internship

Yale School of Medicine (General Surgery)
Residency

Yale School of Medicine (Orthopedic Surgery)
Fellowship

Harvard Medical School (Spinal Surgery Fellowship)
Board Certification
American Board of Orthopedic Surgery
Awards
Doctorate of Medicine with Distinction, Albert Einstein College of Medicine (2003)

Alpha Omega Alpha, Albert Einstein College of Medicine (2003)

B.A. Molecular Biology with Honors, University of California, Berkeley (1998)
Affiliated Locations
Hoag Hospital - Irvine

Hoag Memorial Hospital Presbyterian - Newport Beach

Hoag Orthopedic Institute

Newport Orthopedic Institute - Irvine Orthopedics

Newport Orthopedic Institute - Newport Beach Orthopedics