Michael Fitzpatrick,
MD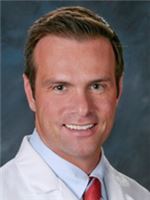 Primary Specialty:

Orthopedic Surgery (Board Certified)
Procedures & Conditions Treated:
Dr. Fitzpatrick has focused his practice treating sports injuries. His area of expertise centers around minimally invasive surgery and arthroscopic surgery.
Biography
Michael J. Fitzpatrick M.D. is an orthopedic surgeon practicing at Mission Hospital since 2005. Dr. Fitzpatrick has focused his practice in investigating, diagnosing and treating sports injury. He has special research interests in minimally invasive shoulder replacements and arthroscopic surgery. Current Dr. Fitzpatrick serves at Co-Director of Mission Hospital Orthopedic Institute and President of South Orange County Orthopedics. In addition, he is a recipient of the Physician of Excellence Award from the Orange County Medical Association.
A graduate of Jefferson Medical College in Philadelphia, Dr. Fitzpatrick completed his residency at Thomas Jefferson University Hospital in Philadelphia in 1998, followed by a fellowship in Sports Medicine and Upper Extremity Reconstruction at the University of Southern California, Los Angeles in 2003. Since completion of his fellowship, he has been an Assistant Professor at the University of Florida, Associate Clinical Professor at the University of California, Irvine and Research Faculty with the Veterans Affairs Healthcare System in Long Beach, California.
Dr. Fitzpatrick is Board Certified in Orthopedic Surgery by the American Board of Orthopedic Surgeons and has received an additional Board Certification in Sports Medicine. He is a member of several professional societies such as the American Orthopedic Society of Sports Medicine and the Arthroscopy Association of North America. He has also been honored by the U.S. Air Force with the National Defense Service Medal, Medal of Accommodation, and Meritorious Service Award for Distinguished Service as an Orthopedic Surgeon. Dr. Fitzpatrick has been published in dozens of reports and abstracts on various orthopedic topics and conditions with his latest, Essentials of Orthopedic Surgery Handbook, published by McGraw Hill.
Questions About Your Care
If you have a clinical question about your care, medication, or follow-up needs, please contact the South Orange County Orthopaedics, Inc. directly.
Phone: (949) 364-2154
Fax: (949) 364-2110
Reception@SOCortho.com
* Please note that due to HIPAA Regulations, we cannot respond to you via email. Once your email is received, you will receive a call from one of our staff members at South Orange County Orthopaedics, Inc.
Education
Medical School

Jefferson Medical College (Medical Doctor)
Internship

Pennsylvania Hospital (General Surgery)
Residency

Thomas Jefferson University Hospital (Orthopaedic Surgery)
Fellowship

USC University Hospital - Medical Center (Sports Medicine)
Board Certification
American Board of Orthopaedic Surgery

Sports Medicine Subspecialty Board Certification
Affiliated Locations
Children's Hospital Orange County - Mission Viejo

Hoag Orthopedic Institute